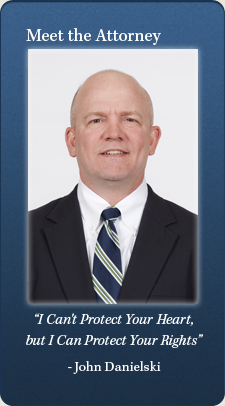 Getting the Results You Deserve
Divorce Attorney offices located in Taylor, Michigan. The Law Offices of John Danielski will handle your family law matter to your satisfaction. If you want to fight, John will fight. If you want to settle quickly and quietly, he will do that, too. As a result, You will get the results you want and the settlement that you deserve.
The law firm has experience getting results in a wide variety of family law cases — including divorce, alimony, custody, visitation and child support. Or, if you are looking to adopt a child, John Danielski can guide you through that legal process.
John Danielski follows this simple motto: "I can't protect your heart, but I can protect your rights." With his extensive experience in family law, he knows that people facing the prospect of getting a divorce are unsure about the legal process and come to a lawyer looking for guidance.
John takes the time to describe what to expect without making outlandish promises. He will also explain the possible outcomes in a straightforward manner.
I Can't Protect Your Heart, but I Can Protect Your Rights
Child custody is one of the most challenging aspects of getting a divorce. As an experienced child custody attorney, John Danielski will be a strong advocate for you. Also, John will work hard to get a fair judgment. John reviews custody and visitation arrangements to ensure interconnection. Because his overall goal is to ensure there is a stable, predictable and consistent schedule for your child that reduces potential misunderstandings and conflicts.
Experienced Divorce Attorney
When people come in for a consultation at the Law Offices of John Danielski, they will not be judged. John Danielski will never tell you what to do; rather, he gives you all the information and leaves the decision in your hands.
If you decide to retain him to handle your family law case, John will provide fair and reasonable representation. He is a tough litigator, but he does not go overboard. In the end, John Danielski will make sure you are treated in a reasonable and respectful manner.
Contact the Law Offices of John Danielski
The Law Offices of John Danielski is headquartered in Taylor, Michigan. The firm serves people living throughout Wayne, Monroe, Washtenaw, Macomb, and Oakland counties. Please call us at 734-284-9399 to set up a free initial consultation.