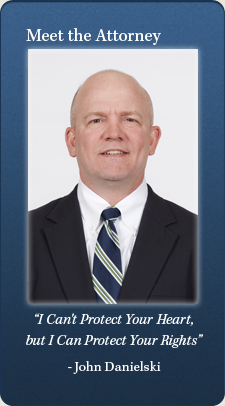 Separate Maintenance Attorney
When couples want a legal separation in Michigan, a lawyer can help draw up a separate maintenance agreement so that they can divide up property, determine child custody, set up spousal and child support, financial and other arrangements as though they are getting a divorce. But it is not the same as a divorce, which is why the advice of an experienced attorney at the Law Offices of John Danielski is imperative.
While You and your spouse may agree to live separately, but things change over time. If you do not have a separate maintenance agreement, you will not be protected.
Attorney John Danielski has the experience to explain to his clients the difference between separation arrangements and divorces. He will not judge your reasons for wanting to separate; rather he will provide information in a straightforward manner so that you can make your decision.
Separation vs. Divorce: It's Your Choice
When a separate maintenance order is created, all family law matters will be determined by a legally binding document, including—but not limited to—the following:
Couples have various reasons for seeking separate maintenance agreements such as:
Religious reasons
Keeping a spouse on a health care insurance plan
Social Security purposes, so that one spouse can continue to qualify for the wage-earning spouses' Social Security
Spouses may hope to resolve their differences over time and may not be ready to divorce but want to live separately
Our Attorney Can't Protect Your Heart, but We Can Protect Your Rights
Attorney John Danielski advises his clients about the requirements to obtain a legal separation while making sure you know your rights and responsibilities. And if you decide to proceed with a divorce, he can also help facilitate that process. Besides, he has experience handling annulments.
Legal Separation  Lawyer - John Danielski Lawfirm, Taylor Michigan
The Law Offices of John Danielski is located in Taylor, Michigan. The firm serves people throughout Wayne, Monroe, Washtenaw, Macomb, and Oakland counties. Please call us at 734-284-9399 to set up a free initial consultation.