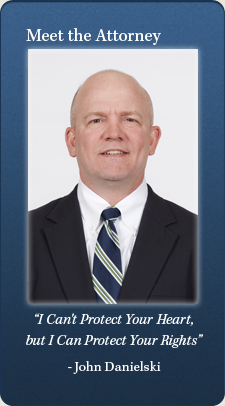 John will handle all disputes regarding the following:
Testate Estates (people who die with a will).
Intestate estates (people who die without a will).
Legally or mentally incapacitated individuals.
Developmentally disabled individuals.
Guardianships.
Conservatorships.
Also, any other matter over which the probate court has jurisdiction.
Contact Attorney, John Danielski
Contact the Law Office of John Danielski for all your Probate needs
The Law Offices of John Danielski located in Taylor, Michigan. Attorneys serve people living throughout the Downriver area of southeast Michigan. Also, including Wayne County, Monroe County, Washtenaw County, Macomb County, and Oakland County. So, contact us by filling out the form on this website or call 734-284-9399 (local) or 866-249-3561 (toll-free) to set up a free initial consultation.