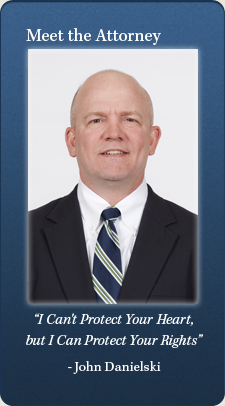 Support Order Lawyer
The Law Offices of John Danielski, in Taylor, Michigan. Also, serves residents throughout the Downriver area with child support cases.
Child support is determined by following a formula used by the court. Factors used to calculate child support in Michigan includes:
Father's net income
Mother's net income
Number of children
Overnight parenting time of each parent
Other support obligations
Custody of other children
Health care costs
Child care costs
John Danielski has extensive experience in guiding parents through the child support process. As with all family law matters, he follows the motto: "I can't protect your heart, but I can protect your rights."
Child Support Attorney
Consequently, as part of the family law process, spouses may find the need to hire a lawyer for enforcement or modification orders.
John Danielski is an experienced child support attorney who can be counted on to effectively demonstrate to the court that there have been changes in circumstances that dictate the need for a modification to the original order. Also, he can handle your modification request quickly and quietly through negotiations or can fight for you in court.
When John works on your modification request, he will ask the court to take into consideration changes in your life or the lives of your children.
Contact the Law Offices of John Danielski
The Law Offices of John Danielski is headquartered in Taylor, Michigan. The firm serves people living throughout Wayne, Monroe, Washtenaw, Macomb, and Oakland counties. Please call us at 734-284-9399  to set up a free initial consultation.