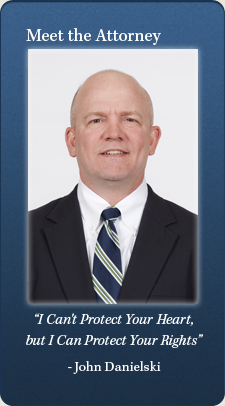 Experienced Michigan Family Law Attorneys
John Danielski's top priority is to make sure your family law case is handled to your satisfaction. He can fight for you in a courtroom or represent you at the negotiation table. The Law Office of John Danielski has successfully handled thousands of cases.
John graduated from the University of Michigan, Ann Arbor (1988) and Indiana University – both with honors. In addition, John is a member of Rotary International and other philanthropic organizations.
Contact Attorney, John Danielski
Getting the Results You Deserve
Located in Taylor, Michigan, the Law Offices of John Danielski will handle your family law matter to your satisfaction. If you want to fight, We will fight. If you want to settle quickly and quietly, we will do that, too. You will get the results you want and the settlement that you deserve.
The law firm has experience getting results in a wide variety of family law cases — including divorce, alimony, custody, visitation and child support. Or, if you are looking to adopt a child, John Danielski can guide you through that legal process.
Our Attorneys Can't Protect Your Heart, but We Can Protect Your Rights
The Law Offices of John Danielski follows this simple motto: "I can't protect your heart, but I can protect your rights." Since we have extensive experience in family law, we know that people facing the prospect of getting a divorce aren't sure about the legal process. Therefore they come to us looking for guidance. So, we take the time to describe what to expect without making outlandish promises. We will also explain the possible outcomes in a straightforward manner.
Contact the Law Offices of John Danielski
The Law Offices of John Danielski located in Taylor, Michigan. Attorneys serve people living throughout the Downriver area of southeast Michigan. Also, including Wayne County, Monroe County, Washtenaw County, Macomb County, and Oakland County. Please get in touch with us by text or call us at 734-284-9399  to set up a free initial consultation.