Contact Law Office of John Danielski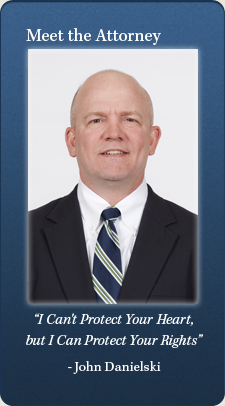 The Law Office of John Danielski, located in Taylor, Michigan
Most importantly, the Law Offices of John Danielski obtains results. John has worked for thousands of clients on a wide variety of family law cases.  As a result, John is an expert in family law including divorce, spousal support, child custody, visitation, child support, adoption, guardianships, and all other family law issues.
Lawyer John Danielski follows the motto: "I can't protect your heart, but I can protect your rights," and he will make sure that your family law matter is handled to your satisfaction. As a result, If you want to fight, John will fight. While, if you want to settle quickly and quietly, he will do that, too.  You will get the results you want and the settlement that you deserve.
Getting the Results You Deserve
Please Contact Law Offices of John Danielski,  by completing the form below.
Please note that bold labels and * indicated fields are required information.
Contact - Danielski Law Firm