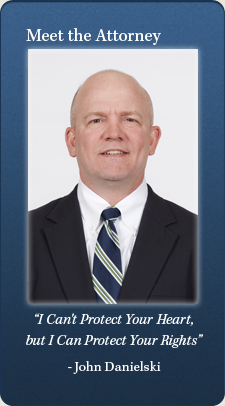 Experienced Michigan Family Law Attorneys
The information you obtain at this site is not, nor is it intended to be, legal advice. You should consult an attorney for advice regarding your individual situation.
We invite you to contact us. Also, we welcome your calls, letters, and electronic mail. Although, contacting us does not create an attorney-client relationship.
As a final point, please do not send any confidential information until such time as an attorney-client relationship has been established.
Contact Attorney, John Danielski
Contact the Law Offices of John Danielski
The Law Offices of John Danielski located in Taylor, Michigan. Attorneys serve people living throughout the Downriver area of southeast Michigan. Also, including Wayne County, Monroe County, Washtenaw County, Macomb County, and Oakland County. So, contact us by filling out the form on this website or call 734-284-9399 to set up a free initial consultation.