Domestic Violence Attorney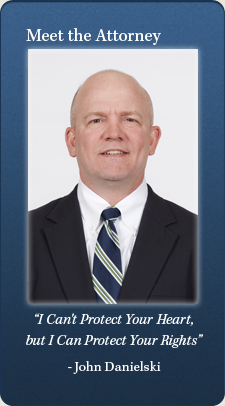 Restraining Order Lawyer
Divorce is a highly emotional process. Thus sometimes people do things that are out of character (or in nature). Such emotions can result in domestic violence or the need for personal protection or restraining order.
With experience in criminal law, the attorneys at the Law Offices of John Danielski have the skills to take on domestic violence cases for clients. Your safety and that of your children are imperative. Furthermore, John Danielski is reliable to act quickly and efficiently. Also, to make sure all protective measures handled on his client's behalf.
Contact Attorney, John Danielski
Experienced Domestic Violence Attorney
"I can't protect your heart, but I can protect your rights." If someone is going through a divorce, John Danielski is counted on to be very responsive to all concerns. Also, to make sure clients have protection with all domestic violence situations.
The Law Offices of John Danielski can provide legal representation for a PPO wrongfully charged. Also, we will gather evidence on our client's behalf and petition to have the order terminated. Taking action is crucial at the time the PPO is issued for a better outcome in your family law case. Because a PPO or Restraining order could be held against you.
Personal Protection (PPO) / Restraining Order Attorney
In Michigan, a Personal Protection Order (PPO) is the equivalent of a restraining order. The purpose is meant to protect a person from being harassed, assaulted, molested, stalked or hurt in any way by someone else.
A court order allowing police a way to protect you from being victimized. A PPO can prevent someone from:
Purchasing a firearm
Interfering with daily activities
Entering your premises and removing minor children
Domestic Violence Attorney - Contact the Law Offices of John Danielski
The Law Offices of John Danielski is headquartered in Taylor, Michigan. The firm serves people throughout Wayne, Monroe, Washtenaw, Macomb, and Oakland counties. Please call us at 734-284-9399  to set up a free initial consultation.